Save £s on your utility and phone bills

09 Oct 2012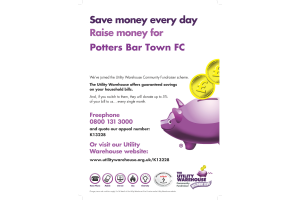 Save money every day and also raise money for the club
We've joined the Utility Warehouse Community Fundraiser scheme.

The Utility Warehouse offers guaranteed savings on your household bills.

And, if you switch to them, they will donate up to 5% of your bill to us… every single month.
Freephone 0800 131 3000

and quote our appeal number: K13228
Or visit our Utility Warehouse website: www.utilitywarehouse.org.uk/K13228

One free phone call or visit to the website could save YOU money every month!